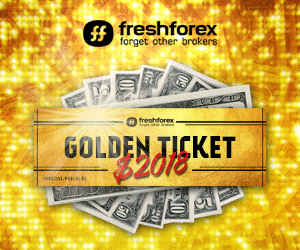 GOLDEN TICKET is your lucky ticket to profitable trading! Special offer: NO DEPOSIT BONUS $2018 will help you to get priceless experience of real trading.
bonus of $2018 is not available for withdrawal but you can withdraw the profit gained with its help provided all the promotion Terms and Conditions are fulfilled.
To withdraw gained profit:
1. Within 14 days fund the account with the amount equal or exceeding the amount of gained profit.
Example: if your profit is $100, deposit $100.
2. Complete 1 lot per each $5 of saved profit.
Example: to withdraw $100 of profit close 20 lots.
3. Contact company manager via feedback form in your Client Area to make this profit amount available for withdrawing. Now you can withdraw gained profit from the account.